Inaugural Nine Dots Prize book published today
31 May, 2018
Clickbait. Fake news. Notifications. Auto-playing videos. In the 'Information Age,' our world often seems like an endless avalanche of distractions. However, far from being mere minor annoyances, these 'distractions' are in fact symptoms of a deep, dark problem that lurks at the heart of modern media: our digital technologies – those products and services we increasingly trust to guide our thoughts and actions – are not on our side.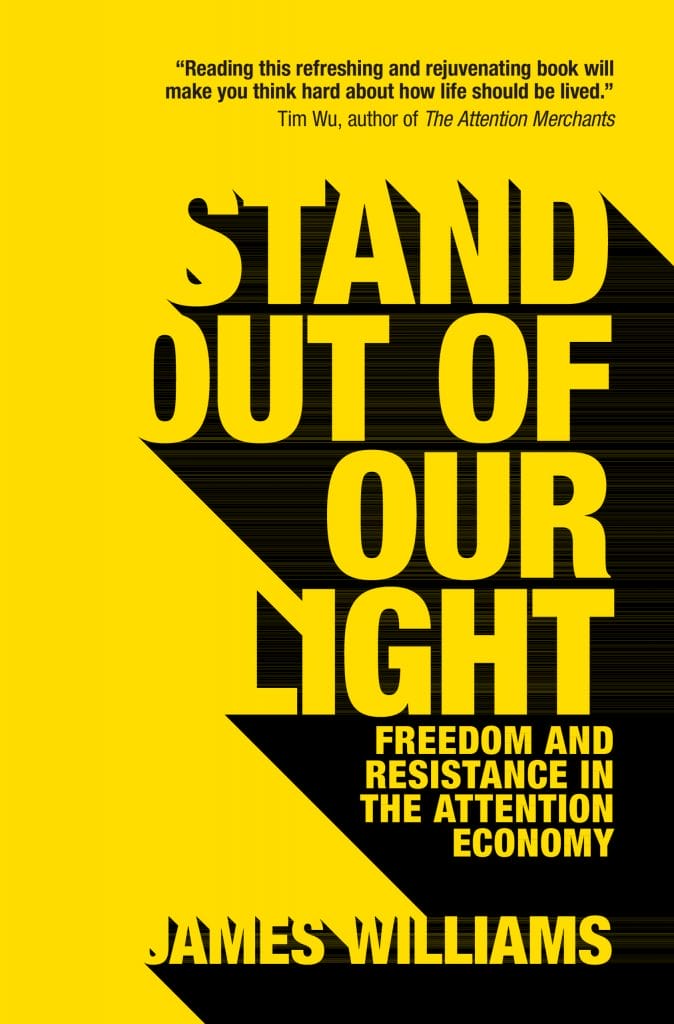 In the inaugural Nine Dots Prize book, Stand Out of Our Light: Freedom and Resistance in the Attention Economy, published today, James Williams warns that the infrastructure of intelligent, adversarial persuasion that now dominates the digital environment is undermining the human will, not only at an individual level but at wider societal and even global levels too.
Ultimately, Williams argues that the digital attention economy represents a new form of political power, one that subjects us to a sort of 'attentional serfdom,' and that reforming it may be the defining moral and political task of our time. Furthermore, the prospect of emerging technologies such as AI, VR, and brain-computer interfaces make doing so now an even more urgent task.
Helpfully, Williams points toward several categories where such reform may be usefully developed – in areas of language, design, business, policy, and more – and he also warns of pitfalls we should avoid. In particular, he argues that we urgently need to 'reset' advertising – to rethink its nature and purpose in an information-abundant world.
Stand Out of Our Light: Freedom and Resistance in the Attention Economy is available now from all good book shops and as Open Access on the Cambridge University Press website.
Praise for Stand Out of Our Light: Freedom and Resistance in the Attention Economy:
'In the Arab Spring, technology helped us topple a dictator – and then it tore us apart. The competition for attention poses a fundamental problem for today's society, and no one I am aware of has gone deeper into this issue than James Williams. He offers striking new ways of looking philosophically at the competition for attention that have fundamentally changed the way I view technology. If you care about the future of society, pay attention to this book.' – Wael Ghonim, internet activist and fellow, Harvard University
'Passionate, provocative, personal and funny – this is not your typical academic book about digital technology! Drawing on philosophy and video games, ancient literature and current science, Stand Out of Our Light helps us to see what's currently happening to the human experience and how we can take back control.' – David Runciman, Professor of Politics and Head of the Department of Politics and International Studies, University of Cambridge and member of the Nine Dots Prize Board
'On the contemporary attention crisis, there is no writer or thinker who has thought deeper on it than Williams. Reading this refreshing and rejuvenating book will make you think hard about how life should be lived.' – Timothy Wu, Professor of Law, Columbia University and author of The Attention Merchants 
'This is a book to be read twice…it is a very insightful and perceptive analysis of one of the crucial issues of our age: how we spend our time and our cognitive abilities in the infosphere. It will be the starting point for anyone who wishes to create a better future.' – Luciano Floridi, Professor of Philosophy and Ethics of Information and James Williams' PhD supervisor, University of Oxford